Mr Chinnery A cheerful and disarming man, Mr Matthew Chinnery (Gatiss) is the accident-prone local veterinarian (not "Dr Chinnery", as he is a veterinary surgeon). Most of the animals he treats end up dying, including a pregnant cow whose insides were mangled when he attempted to help the calf but put his hand up the wrong passage while a group of schoolchildren looked on, a sheepdog whom he mistakenly euthanised while the owner was out of the room fetching the actual patient, and a tortoise he blasted out of its shell while attempting to give it oxygen.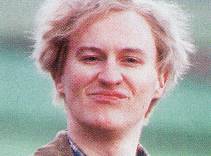 In the Christmas Special, Mr Chinnery told Bernice the story of how his great-grandfather Edmund Chinnery, the foremost vet of his time, was cursed to have any animal he touched "meet a dreadful end" and that his descendants would carry the curse after him. Bernice reassured him that there was no such thing as curses. He does not appear at all in Season 3 (most likely because he was "cured" in the Christmas special), but does make an appearance in the film, The League of Gentlemen's Apocalypse, treating a giraffe and having a role in the film's climax. In the live show, he stands in for a magician and gives a new twist to the trick of pulling a rabbit out of a hat.
Many of Chinnery's disasters are parodies of scenes from the BBC's All Creatures Great and Small. Mark Gatiss's performance is reminiscent of Peter Davison, who played Tristan Farnon on that program. (Gatiss is also a famous fan of Doctor Who, in which Davison played the title character for three years. The name Chinnery almost certainly comes from actor Dennis Chinnery who played three separate characters in Doctor Who. Coincidentally, Christopher Eccleston, the ninth Doctor, appeared in the League of Gentlemen as the owner of a cat theatre, set up in direct competition to Kenny Harris's Dog Cinema — Kenny Harris also played by Mark Gatiss.)
Ad blocker interference detected!
Wikia is a free-to-use site that makes money from advertising. We have a modified experience for viewers using ad blockers

Wikia is not accessible if you've made further modifications. Remove the custom ad blocker rule(s) and the page will load as expected.